Our Publications
Channel Partners: Pulling Together to Win Together
By Gregg Taragos, Ph.D. with Debra Hvass

All partnerships require mutual trust. A partnership within a distribution channel is particularly complex, since it involves coordinating the internal capabilities of multiple businesses with the needs of the distribution channel as a whole and with the expectations of end users. In this guidebook, you will find a six-phase process for building true channel partnerships. This process includes the following components:
Strategy: Keep the goal in mind.
Collaboration: Build collaboration through dialog.
Alignment: Determine the best way to get started on joint business activities.
Resources: Decide collaboratively how to pay for joint business activities. Implementation: Connect people and processes.
Results: Evaluate the results and use them to refine the program.
As you study the six phases and learn from the case examples, you'll have a head start on the journey toward differentiating your channel in your industry and marketplace. As you continue to build your partnership through open communication and collaboration, you'll experience the satisfaction that comes with mutual trust in any long-term relationship -- and the exhilaration that comes when everyone pulls together to win together.
Receive a free copy of Channel Partners: Pulling Together to Win Together.
You can order this 45-page paperback guidebook for $10.95 plus shipping and handling by completing the order form provided, or by calling (612) 922-7839.
Off The Charts Results For Organization Development, by Keith Morical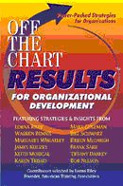 A collection of relevant strategies from the viewpoint of 12 respected experts in their field. Among them are: Keith Morical, Warren Bennis, Margaret Wheatley, James Kouzes, and Eileen McDargh.
Off the Chart Results could not have come at a better time. In an increasingly unpredictable world, here is a collection of articulate seekers asking the right questions while providing a wealth of resources to help you get to where you want to go. And somewhere in the process of arriving, you'll discover the vital dance between "What's my purpose?" and "What's the bottom line?"
You can order this book for $27.95 plus shipping and handling. Books can be ordered by contacting us online or by calling (612) 922-7839.
Learning Paths
Steve Rosenbaum and Jim Williams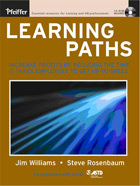 Learning Paths: Increase profits by reducing the time it takes to get employees up to speed is a new release from Pfeiffer, a Wiley Imprint and ASTD Press. The Learning Paths training approach is a revolutionary way to reduce the start-up time for your new employees by 30% and guarantee bottom-line results! Learning Paths is an innovative yet practical resource filled with illustrative techniques, strategies, processes, and tools for making company-wide, real-time training possible. Created to be flexible, the Learning Paths approach can be customized to fit your organization no matter what its type or size. (Available at Pfeiffer.com and Amazon.com)
You can order this Book for $27.95 plus shipping and handling by contacting us online or by calling (612) 922-7839.